The White Guitar
The ultimate distinction of The White Guitar is courage, forgiveness and reconciliation.
– Tamati Patuwai, Theatreview
"Director Nina Nawalowalo and Jim Moriarty's ability to give this 'wearing your heart on your sleeve' story the lightest of touch with great skill and restraint is a huge part of this piece's success… The White Guitar's story is truly a theatrical masterpiece that will haunt me for a long time to come, accentuated by its intensity and authenticity."
– TheatreScenes
Following standing ovations and sell-out seasons in Auckland, Wellington and Christchurch, moving onto a successful 8 city regional tour, renowned hip-hop artist Scribe features with his father John and brother Matthias in this stunning new play, The White Guitar – the true story of the Luafutu family; powerful patriarch John, and sons Matthias and Malo (aka Scribe).
A grandmother's dream of a better life in New Zealand collides with the reality of hardship and loss: a man's journey from boyhood innocence into the heart of darkness – through violence, drug addiction, prison and gangs – to the possibility of hope, healing and redemption.
With the intensity of a live gig, music pumps through the story's veins – from the first songs of a grandmother as she sings along with her white guitar to the power of rock 'n' roll, the beats of hip-hop and church hymns, music is the life blood which pumps through this story's veins, set against the backdrop of living and growing up Samoan in Auckland and Christchurch.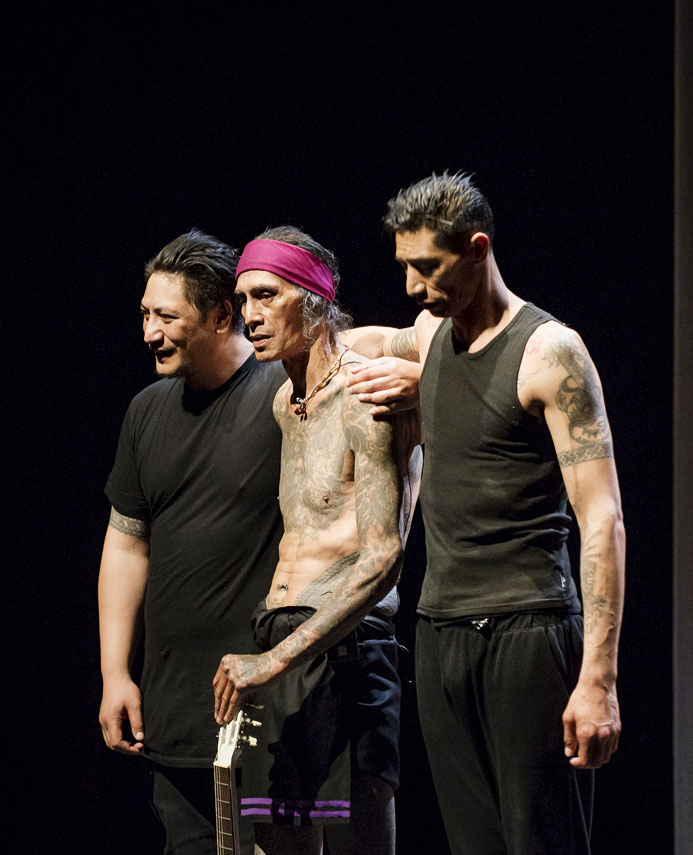 DIRECTED BY:
Nina Nawalowalo and Jim Moriarty
ORIGINALLY COMMISSIONED BY:
The Christchurch Arts Festival
CAST:

Fa'amoana John Luafutu, Matthias Luafutu, Malo Luafutu, Tupe Lualua, Filoi Vailaau, Tom McCrory, Kasaya Manulevu, Merlin Connell-Nawalowalo
TEXT:
Fa'amoana, Matthias and Malo Luafutu
CREATIVE TEAM:
Nina Nawalowalo – Director
Jim Moriarty – Director
Tom McCrory – Dramaturge
Sasha Gibb – Producer
Oscar Kightley– Script Consultant
Chris Winter – Sound Design
Owen McCarthy – A/V and Set Design
Lisa Maule – Lighting Designer
Seraphina Tausilia – Costume
Ole Maiva – Re-mount Creative Development